Bike paint protection: Myths and solutions
As a mountain biker, you know how rough the terrain can be, and how easy it is to damage the paint job on your bike. That's why using bike protection film on your bike's frame is a good idea. A quality bike paint protection film will work great to protect your bike's paint from scratches, rock chips, cable rub, and other damage. It can help extend the life of your bike's paint job and will keep it looking brand new for longer.
Myths about paint protection and what to avoid
You should definitely avoid riding without using any sort of bike protection film. A bike's paint is usually able to withstand a decent amount of abrasion and weathering; however, harsh riding conditions will deteriorate a bike's paint job over time. The best thing to do is get a high-quality protection kit and cover all susceptible areas with it. It's better to be on the safe side! Now, let's clear up some misconceptions or myths about paint protection films.
Myth #1 - All paint protection products are the same
This is not true. There are many different types of bike paint protection films on the market, and not all of them are created equal. The AMS frame guards are made of highly durable and resistant honeycomb 380 microns semi-rigid PVC. Its automotive-grade material won't degrade or yellow over time. Guaranteed! 
Myth #2 - Custom-made-to-fit protection films are superior
Custom-made protection films are usually more expensive and not necessarily better. The AMS protection kits are designed to fit a wide range of bike models and sizes and can provide excellent protection and a unique look and feel. We offer different degrees of protection starting with our basic kits all the way up to our total protection kits that cover your main triangle, fork, stays, and extra parts. 
Myth #3 - Frame protection will ruin the aesthetics of your bike
This is another common myth. The AMS frame guards come in different patterns and color options that won't ruin the look of your bike but will rather improve it. We also offer a clear version of our frame protection kits that is perfect for protecting your paint job from chips and scratches without visual impact.
Myth #4 - Frame protection is difficult to install
While it's true that some bike paint protection film can be tricky to install, The AMS frame guards come with precut shapes to fit specific parts of your frame. The semi-rigid PVC material is super easy to install even on difficult parts of your bike. easier than tape! There is no need for complex procedures or complex tools. Visit our installation page to see how easy it is!
Myth #5 - It's only necessary for MTB bikes
While it's true that MTB bikes are more likely to suffer damage from rocks, debris, and rough terrain, road bikes and other types of bikes can also benefit from frame protection. Any bike that is exposed to the elements and potential damage can benefit from the added protection of bike protection film.
Protect paint of the bike with frame protection kits
Protecting your MTB bike's paint is crucial for maintaining its appearance and value. By choosing high-quality paint protection like the AMS frame guards, you can extend the life of your bike's paint job and keep it looking great ride after ride.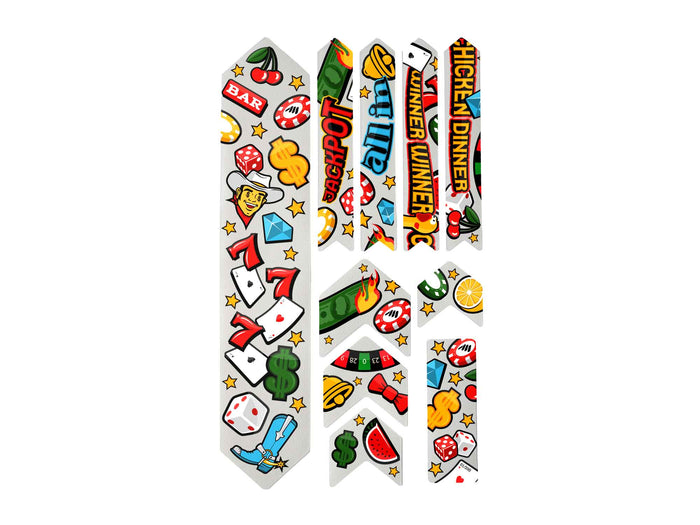 Don't let rough terrain and harsh riding conditions damage your investment - invest in a quality protection kit and ride with confidence!